St. Thomas Religious Education Classes
2019-2020 School Year
ALL STUDENTS, RETURNING AND NEW STUDENTS, MUST REGISTER REGARDLESS IF YOU HAVE REGISTERED IN THE PAST.
Religious Education Registration Form 2019-20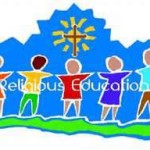 Welcome! We look forward to meeting you and your child/children this coming school year.
Religious Education Classes begin when your child reaches first grade and continue until 8th grade.  Classes run from September to May of each school year on Monday from 4:00PM to 5:15PM at the Brigantine North School.  This year classes will begin on Monday, September 23rd.

Registration is from August 5th – August 29th for the 2019-2020 school year. To register your child/children please come to the Parish Office at 331 8th Street South, Brigantine NJ.  Registration fee is $80.00 per child, or $140.00 maximum per family. These fees help defray the costs of textbooks and supplies.  Checks should be made payable to St. Thomas Church.

PLEASE NOTE: Entrance and Exit from classes will be at the "cul-de-sac", Door #1. 
Doors WILL NOT open until 3:55pm.
Children will be dismissed at 5:15pm.
Parents WILL NOT be allowed to enter the building.

Religious Education Coordinator:  Deb Widman
Religious Education Asst. Coordinator:  Mary Pizza
St. Thomas Parish Office
stthomas331@comcast.net
609-266-2123, ext. 3